Almost 80% of home computers are infected, your personal data is vulnerable and your anti-virus can't help!
Like most PC users you probably have one or two anti-virus scanners or a security suite on your PC and feel comfortable that you are protected from the dark side of the internet. You are not alone! Most of us swear by this false sense of security. Unfortunately it's a lie, most likely your PC is already infected as you are reading this. The raw reality of the situation is that the current threats are so varied and technologically different that no single personal security software or suite can keep you safe. Anti-virus companies are facing a multitude of Attack Vectors and cannot cover all bases. Basically one software may be good at Malware removal while another is good at cleaning Browser threats. Over 75% of security experts agree that Anti-virus and security scanners alone cannot secure a computer or network in today's cyber world.
LikeNEWPC provides the BEST Cyber Protection Available on the Market Today!
LikeNEWPC runs 8-12 scanners and tools of varying technologies to ensure we get all of the threats and protect your personal data. LikeNEWPC software automates a security "best practices" process that allows novice users to protect their PC, automatically backup their data and update their software and apps to reduce known threats. We keep up with the cyber bad guys so that you sit back and relax.
How LikeNEWPC works:
Safe & Easy to Use, LikeNEWPC is well tested and validated software that performs complete (all in one) Windows computer repair. Designed for novices to be fully-automated and run unattended, LikeNEWPC is easy enough for beginners but powerful enough for the Pros.
Our Two Step Process Runs 12 Scanners & Tools to Thoroughly FIX your PC!
Step 1 performs low level fixes and validation on boot, system files, hard drive, drivers and hanging programs to repair non-starting or disabled computers. For best results it is advised that this step be ran in its entirety without interruption.
Step 2 is the best Virus / Malware and Cleaning product available today for Slow and badly infected computers. Leveraging the stability obtained during step 1, we then use 7 different industry leading scanners and tools in a redundant process to remove ALL types of malicious programs. No other product provides this level of cleaning.
Because LikeNEWPC is so thorough it takes longer (4 – 5 hours typically), like a tech would. If runtime is a concern you may elect to bypass the backup in Step 1 and run Step 2 at a later time. Best results obtained if steps ran sequentially.
Try this one, it works!
VERY IMPORTANT (READ ALL):
INDUSTRY TEST TECHNICIANS - DO NOT RUN/TEST IN VIRTUAL MACHINE/BOX. Program designed for stand alone end user systems.
REMOVE ATTACHED DEVICES PRIOR TO RUNNING - You must remove all attached USB and attached devices (except wifi/network) such as wireless mouse, wireless keyboard, printers, etc. for the service to run. Please connect STD wired mouse and keyboard if necessary for desktops.
PROBLEMS DOWNLOADING - If you experience problems downloading and/or running LikeNEWPCSetup.exe then your anti-virus/malware/firewall program may be blocking us (they may block even reputable products like ours and others). Please right click on the programs icon on the taskbar/tray (near bottom right of screen normally) and temporarily disable or "allow" LikeNEWPC download or run.
RUN ON DISABLED COMPUTER NOT "BOOTING/STARTING UP" - From a healthy computer click download and select "Create bootable USB/CD". This will enable you to create a USB/CD with our program to transport to a disabled or non-starting Windows XP, Vista, 7, 8, 8.1 and 10.
NON STANDARD WINDOWS INSTALLATIONS - Not approved yet for dual boot systems or non standard Windows installations.
AFTER RUNNING YOU HAVE BOOT OR OTHER ISSUES - LikeNEWPC is for disabled and badly infected computers. As such, aggressive measures may be taken to repair defective computers and software. To alleviate any issues created while running our software we have built in a recovery program to roll back your computer should it have problems. Though incredibly infrequent, blue/black screens or non-booting can occur. To initiate recovery, simply power off your computer and then restart LikeNEWPC. It will give you the option to Perform Recovery. Selecting this option will reset your system to when you started and then allow you to boot into windows.
NO RISK - Try Today for FREE
• Safe and Easy to use for novices or professionals.
• We do not collect your email or personal information of any kind. What do you have to lose? We are so confident that our service will work that you decide if payment is warranted.
Preparation and What to Expect:
PC Pinpoint "LikeNEWPC" is completely automated and will only query the user on a couple of occasions. Remove all USB and periferal devices attached to your computer prior to start. If necessary you may be requested to enter your wireless info at the start of Step 1. Once connected, you will be asked to insert a USB backup device to copy your data prior to repairs (highly recommended). Lastly, during Step 2 of repairs, you may be asked to uninstall a program and/or enter security codes. Simple instructions will be provided if the need arises.
Step 1 Repairs ...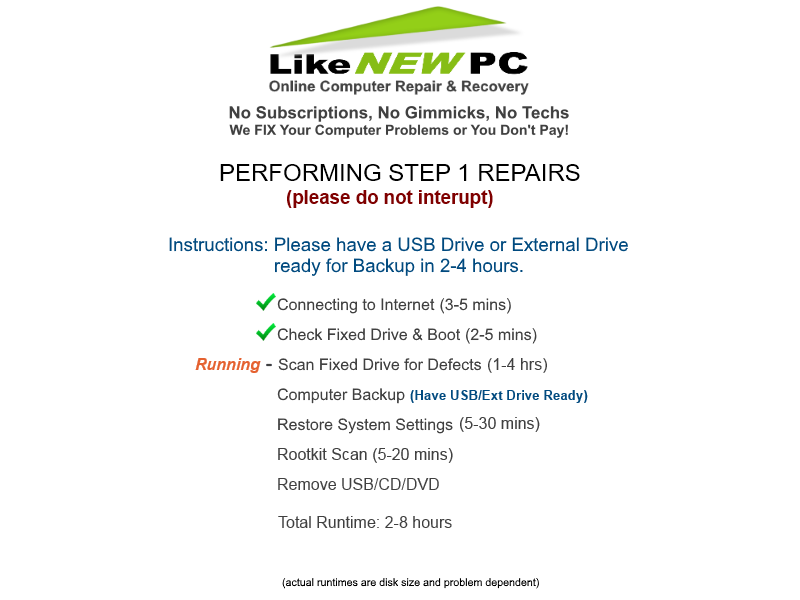 Easy Backup ...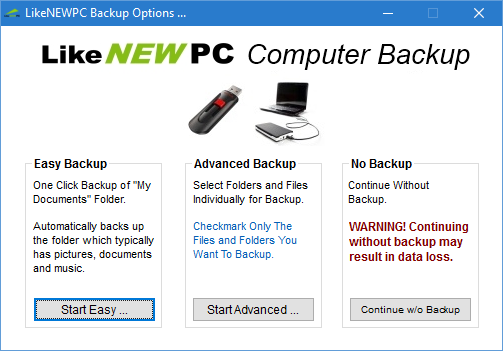 Step 2 Repairs ...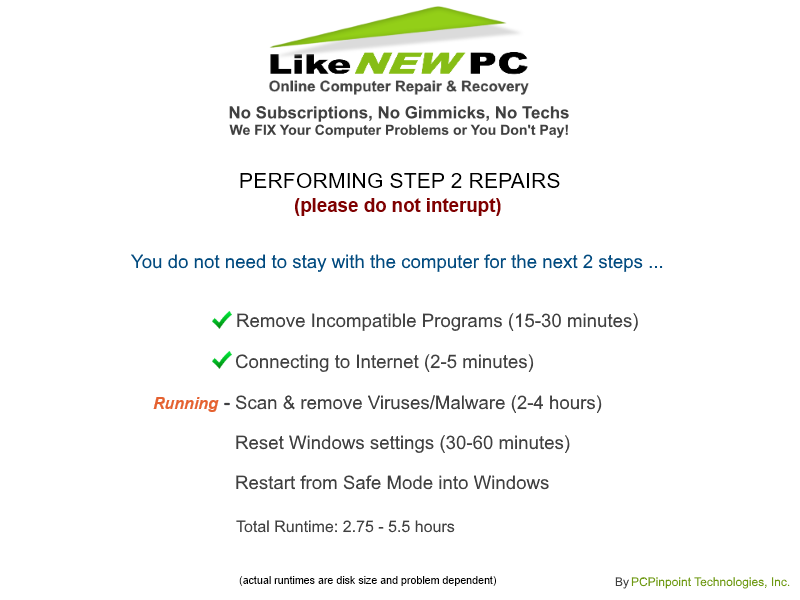 LikeNEWPC Minimum System Requirements:
Runs on Windows XP, Vista, 7, 8, 8.1 and 10.
Pentium 4 or newer
Minimum 512 Meg RAM
Internet Connection (required)
Download size: aprox. 672 Megabytes (0.67GB).
Run time 4-6 hours typically. Severe corruption or infection could take up to 16 hours.
Backup time is additional and based on volume of data.
Disclaimer:
LikeNEWPC is designed for catastrophic computer failures. Although improbable, it is possible for our product to create additional problems. We have incorporated Automated Computer Backup features that will allow you to recover and backup your data if accessible prior to running repairs to help prevent loss of your important stuff. Ensure you backup your files when the program prompts you to avert any loss. When in the program, clicking on continue without backup is done at your OWN RISK. By accepting and acknowledging the EULA you are assuming all risks associated with our Catastrophic Computer Repair Service.
End User License Agreement (EULA):
IMPORTANT-READ CAREFULLY: BY DOWNLOADING, INSTALLING, OR USING THE SOFTWARE, YOU (THE INDIVIDUAL OR LEGAL ENTITY) AGREE TO BE BOUND BY THE TERMS OF THIS END USER LICENSE AGREEMENT ("EULA"). IF YOU DO NOT AGREE TO THE TERMS OF THIS EULA, YOU MUST NOT DOWNLOAD, INSTALL, OR USE THE SOFTWARE, AND YOU MUST DELETE THE UNUSED SOFTWARE. View LikeNEWPC Full EULA