How it works when you select "Take to non-starting computer" ...
Connect to the Internet - LikeNEWPC will try to automatically connect through wireless or wired internet connections. If needed we may ask you to select your wireless router and enter your password.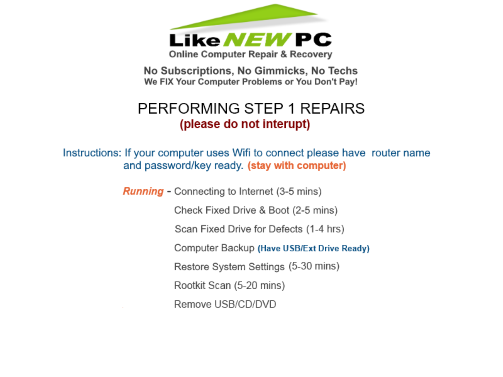 Wireless Router and Password - Highlight and select your router by name on the left then enter your password to connect to your wireless router.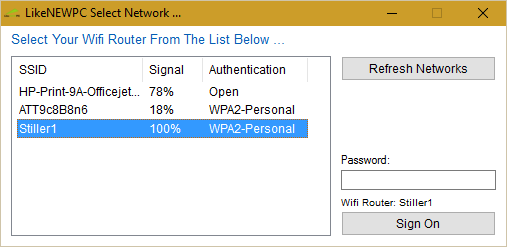 Perform Step 1 Repairs - LikeNEWPC step 1 repairs low level issues causing disabling problems. It will fix hard drive, boot, startup, missing files, blue and black screens and many other problems. As the individual tools or scanners are ran they will be checked off in green. The step currently being executed will display "running" status in orange. Instruction verbiage in blue at the top of the page will inform you if you need to be at your computer or of other actions being performed. Red instructions are warnings or critical information.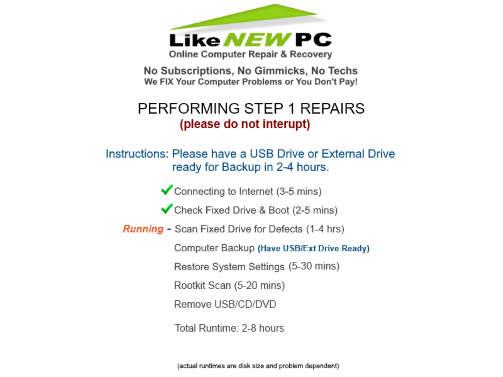 LikeNEWPC Backup - We have provided an automated backup tool to help you retrieve or backup your files and pictures from broken computers. We highly recommend you backup your stuff to ensure it is safe. We provide both Easy and Advanced backup features. Just click on the Start Easy backup button and LikeNEWPC will backup up your documents folder where most pictures and files are stored.
Insert USB or External Hard Disk for Backup ...
Once you have selected Easy Backup or files for the Advanced Backup option LikeNEWPC will calculate the space required to copy the files to your USB or External disk. Simply ensure you have a big enough backup drive and click backup. LikeNEWPC will automatically copy the files and secure your data.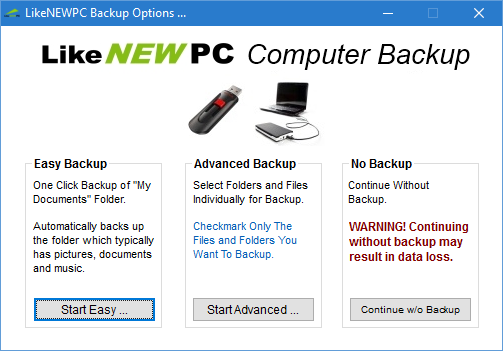 Easy Backup - Simply select the backup drive letter and select "Start Backup" ...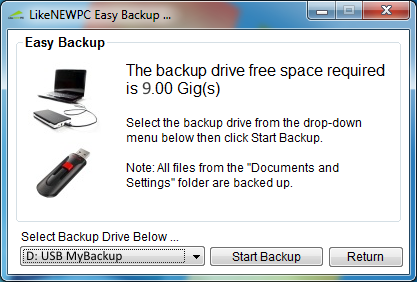 Advanced Backup - Simply check the files or folders you wish to backup and LikeNEWPC will backup ONLY those items you wish to backup. Then select the backup drive using the drop down menu at top of page.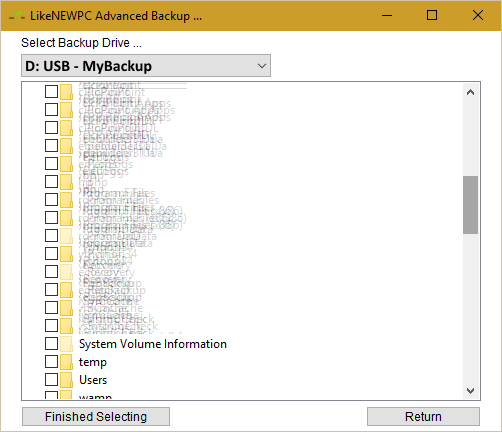 Step 1 Completed Remove USB or CD and Restart ...
Once step 1 has completed you will be reminded to remove any USB or CD's that may have been used during Step 1 testing. Remove and click on Restart.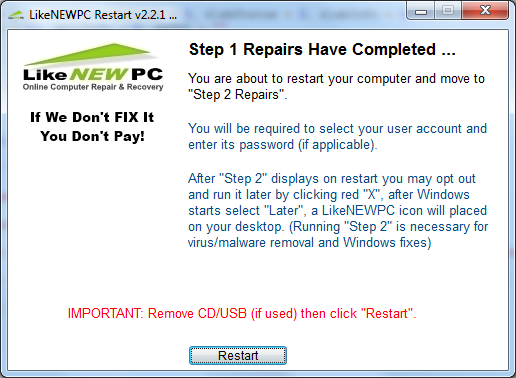 Choose Account to Login ...
After Step 1 completes the computer will reboot into Safe Mode for Step 2. If you have a password to login into your account you will need to provide it now.
During Step 2 You May Exit to Run Later
It is recommended that Step 1 be ran without interruption as it performs low level repairs. Step 2 provides thorough removal of Viruses, Malware, Trojans and most Security Threats. If you are time constrained You may exit Step 2 by clicking on red "X", then Select, "To Windows" to exit.
Once in windows you will be given the opportunity to select later for restarting Step 2 at a later date. An Icon will be placed on your desktop, simply click on it to restart testing. Step 2 performs the majority of virus / malware cleanup and enhances speed and performance. You may not notice improvement until Step 2 is ran.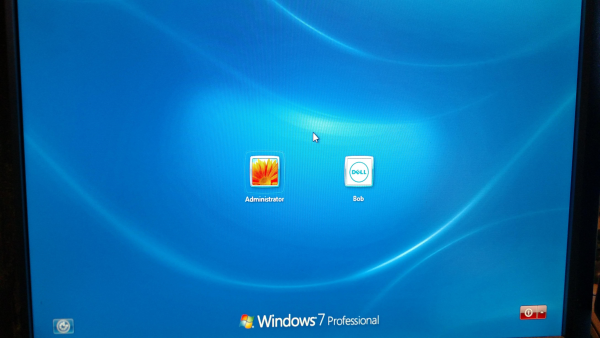 LikeNEWPC May Remove Any Corrupt and Compromised Programs
Remove Conflicting, Rogue or Corrupt Programs ...
LikeNEWPC may require your help in removing programs that are undesirable, conflicting or corrupt which are causing your computer to slow down. The biggest offender of this is multiple security programs and rogue programs downloaded in error. You should locate your subscription keys etc. to reload any programs that need to be removed should you wish to reinstall. If you cannot locate your key we will provide access to the Free programs we utilized to fix your computer when we are done. We use them because they work. You will be instructed on screen to remove these programs one at a time. Not all programs remove the same and you may require some reading to remove. Keep in mind the intent is removal. It may take several passes of the removal app so stay by your computer. Click on Continue to begin.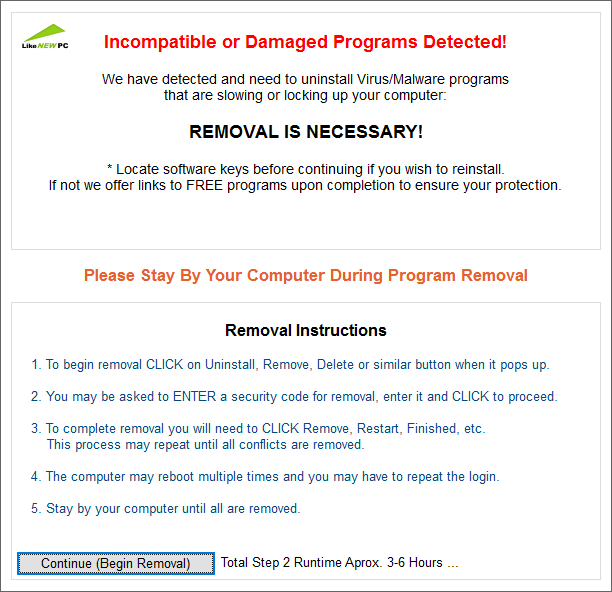 Next, look for instructions in Blue and Warnings in Red as each step cycles. This will inform you when you need to be at your computer to help us.
Step 2 Repairs Completed ...
You have Completed Repairs! Click on restart to boot into windows.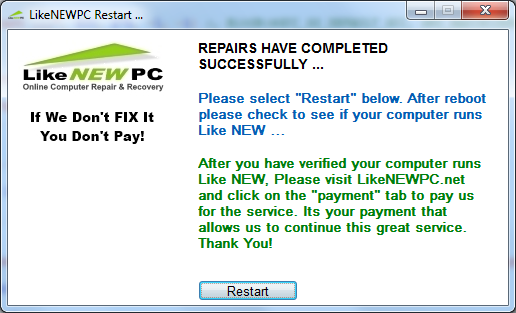 Restart Into Windows ...
Once you have restarted into windows we will pop a screen that shows some of the cleaners and tools utilized to repair your computer. If you wish to download or purchase any of these products click on the tools tab and their links and descriptions will be displayed. Remember, they work or we wouldn't use them. In addition you have the option to pay now or complete a survey for us. Please give us your input as we wish to continue to make LikeNEWPC the best product it can be.